Dear Parents and Carers, 
Following our Zoom Transition Meeting last week, we promised to send out information about One to One Meetings via Google Hang Out where you and your child can meet a key member of staff, set some goals for Year 7 with your child and ask key questions that you might have.  These are 15 minute appointments. Children should not attend these without an adult with them, so please choose a time that suits the family.
Over the next week, every pupil should receive an email to your GMail via their school account, inviting them to book an appointment.  There will be a link in the email directing you to a booking page. It will look something like this once you follow the link: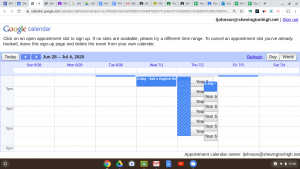 You should then select one of the 15 minute appointments by clicking on it.  Once this is done, Google Calendar will send you an invite to attend these meetings and in this message there will be a link to take you directly to the Hangout at your selected time.
Please make sure you book the appointment via your child's school Google account rather than private parent email accounts.
To get the best out of these meetings, you ideally need to use a device that has both a camera and a microphone.  Google Meet can be downloaded as an app on a phone or tablet, or if you are using a laptop or PC, children will be able to access Google Meet from the pupil portal or via the GMail invite that they receive.  The advantage to this will be that both pupils, parents and the member of staff involved, get to meet virtually 'in person' and can put faces to the names more easily.
If you do not have a device with a camera, but do have a microphone, or prefer not to use a camera, then you can join the meeting on audio only.  If you do not have any device that would allow you to access these meetings, but you would like to discuss your child's transition via a phone call, please either email the relevant member of staff to request this or contact the school office to discuss the options available.
Thank you for your ongoing support and engagement with our virtual transition.  We look forward to hearing from you soon.
Your sincerely, 
Mrs Johnson