Post Results Service
Please click below
Summer Exam Timetable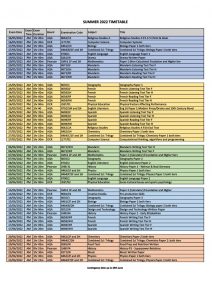 Contingency date:  29th July 2022.  Students needs to be available up to and including this date, in case of national or widespread disruption and exam dates need to be changed.
Information 2022
GCSE Results Day is Thursday 25th August 2022
Results will not be released over the telephone
The pandemic has been really tough for students but, despite the challenges, you have shown admirable resilience in the face of the disruption caused to education.  Please see the below link for the most up to date information regarding exams in 2022 and the changes implemented to level the playing field and ensure fairness for all.
Students FAQ's